It is very easy to make a bamboo flute out of a PVC pipe, and it is very cheap.
It only costs 1 dollar and takes half a day to make.
If you have an electric drill, it will only take 30 minites to complete.
The sound will be as beautiful as a genuine shakuhachi.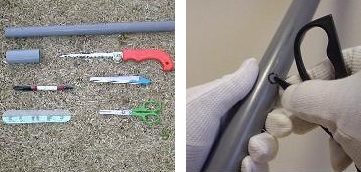 left picture:Materials for the shakuhachi are the PVC pipe(internal diameter = 20mm) and the PVC joint pipe(caution: when buying the shorter PVC pipe in the picture. Be sure it is a "PVC jointer" because you will be inserting the longer pipe into it for mouth piece).
You need a ruler, scissors, a cutter, a saw and a pen. But you probably already have these tools around the house.

Right picture:If you don't have an electric drill or a manual drill,
you can make the holes in the PVC pipe with a scissors.
To make the holes this way, you will need more time than with a drill, but it is not so difficult.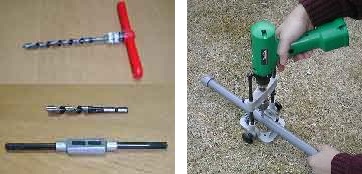 If you have an electric drill, you can make beautiful holes very quickly and easily.
Once you get all the materials and tools, let's begin to make the bamboo flute.
First cut the PVC joint pipe into two pieces,
and then cut the PVC pipe into 55cm length.
Tightly insert the long PVC pipe into the joint pipe. If you have some adhesive
agent, please use it here.
As shown in the lower picture, how to cut a mouth piece for the bamboo flute.

As shown in the lower picture, where to make the 10mm diameter holes on the 54.3cm pipe.
Now you have a very good PVC pipe shakuhachi that you can blow and blow and blow. You can find the fingering for the bamboo flute in the picture on the home page or get it from TUNER.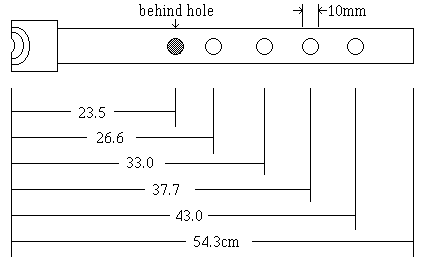 If your PVC pipe is different from the pipe I used here,
you may not be able to get a good tuned shakuhachi out of this above scheme.
Because of the different internal diameter and thickness of the pipe, you must make
some holes bigger.
But you don't need to have an anxiety attack. With TUNER you can easily get the exact frequency of the sound which the flute makes
and you can do TUNING by adjusting the holes size.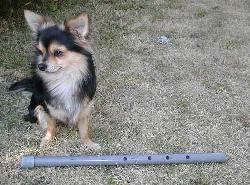 My family's pet name is "SUN" and a bamboo flute made of PVC pipe.